Top Employers in the Okanagan – 2018
Now in its 13th year, BC's Top Employers is an annual competition organized by the editors of Canada's Top 100 Employers. This special designation recognizes the British Columbia employers that lead their industries in offering exceptional places to work. Employers are evaluated on the following criteria:
Physical Workplace
Work Atmosphere & Social
Health, Financial & Family Benefits
Vacation & Time Off
Employee Communications
Performance Management
Training & Skills Development
Community Involvement
When job seekers look to join an organization, there are a variety of factors that they use to evaluate their potential employer, many as mentioned above.  People are looking for everything such as progressive human resources programs to professional development and flexible work schedules.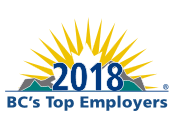 BC's Top Employers 2018
Here is a look at the top employers in British Columbia for 2018:
AbeBooks Inc.
Absolute Software Corporation
ACL Services Ltd.
BA Blacktop Ltd.
BC Assessment
BC Children's Hospital Foundation
BC Housing Management Commission
BC Hydro
BC Public Service
Beedie Development Group
Best Buy Canada Ltd.
Boeing Vancouver
British Columbia Ferry Services Inc. / BC Ferries
British Columbia Institute of Technology / BCIT
British Columbia Liquor Distribution Branch
British Columbia Lottery Corporation / BCLC
Cactus Restaurants Ltd.
Canfor Corporation
Canucks Sports & Entertainment
Capital Regional District / CRD
Clio
Cloverdale Paint Inc.
Coast Capital Savings Credit Union
College of Physicians and Surgeons of British Columbia, The
Connect Hearing
Coquitlam, City of
Dentons Canada LLP
DLA Piper (Canada) LLP
Douglas College
ESIT Advanced Solutions Inc.
Family Insurance Solutions Inc.
FinancialCAD Corporation / FINCAD
Fortinet Technologies (Canada) ULC
Fraser Health Authority
Great Little Box Company, The
Grouse Mountain
Hemmera, an Ausenco Company
Industry Training Authority / ITA
iQmetrix
Jacob Bros Construction Inc.
JOEY Restaurant Group
Knight Piésold Ltd.
Kwantlen Polytechnic University / KPU
LandSure Systems Ltd.
Microsoft Vancouver
Mitacs
Mountain Equipment Co-op
MTU Maintenance Canada Ltd.
Nature's Path Foods, Inc.
North Vancouver, District of
Oppenheimer Group
Perkins+Will Canada Architects Co.
Peterson
PNI Digital Media Inc.
QHR Technologies Inc.
QlikTech Corporation
F. Binnie & Associates Ltd.
Raymond James Ltd.
Ritchie Bros. Auctioneers (Canada) Ltd.
Rocky Mountaineer
SAP Canada Inc.
Simon Fraser University
Sophos Inc.
SRK Consulting (Canada) Inc.
George's School
StandardAero (formerly Vector Aerospace)
Surrey, City of
Teck Resources Limited
The Oppenheimer Group
TransLink (South Coast British Columbia Transportation Authority)
Transportation Investment Corporation
UBC / University of British Columbia
University of Northern British Columbia / UNBC
University of the Fraser Valley / UFV
Vancouver Airport Authority
Vancouver City Savings Credit Union
Vancouver, City of
Wesgroup Equipment LLP
West Fraser Timber Co. Ltd.
Whistler Blackcomb
WorkSafeBC
Top 2018 Employers in the Okanagan
From this list, here is a list of the top employers that have a presence in the Okanagan.  Click on the link to learn more about the organization.
Looking for employment in the Okanagan?  Check out our job board at: https://www.aspirehiring.ca/current-job-listings/
Need assistance with your job search in the Okanagan? Contact us today to set up a consultation.  Speak with one of our experienced HR consultants and begin preparing for your new career today!