Client Success Story: Strategic Aviation
At Aspire Recruitment Solutions we are proud of the work we do with our clients and the many Okanagan-based businesses that we work with.  When our clients succeed, we succeed.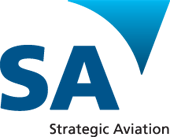 Over the past few years we have done a lot of recruiting for Strategic Aviation Holdings Ltd.  Strategic Aviation is headquartered in Kelowna and has expanded their presence to 16 airports across Canada.  With such expansion, you can image the need to fill various positions at each airport.  At any time you will see that we have a number of job postings on our job board for positions at Strategic Aviation.  Positions range from airport ramp attendants, corporate trainers, accountants to Director-level positions.
Strategic Aviation is 100% Canadian owned and operated and continues to be an industry leader in passenger, cargo and ground support aviation service.  Strategic Aviation's success speaks for itself:
They operate in 16 bases across Canada
The serve 11 different regions across Canada including nine provinces and two territories
They provide support for over 60,000 flights every year
The employ over 500+ peoples across their organization
Last week, Strategic Aviation announced that they had successfully completed and passed the IATA Safety Audit for Ground Operations (ISAGO) at both the Vancouver and Kelowna airports.  This is no small feat as Strategic Aviation is the first and only Canadian Ground Handler to receive this designation.  ISAGO is built around a set of internationally recognized standards and is an accepted system for assessing the operational management and control systems of the Ground Service Provider.  The designation illustrates Strategic Aviation's focus on safety and quality.
We applaud the efforts of Strategic Aviation and look to remain working with them as they continue to build their team with exceptional talent.
For those looking for employment with Strategic Aviation, when it comes to work opportunities, the sky's the limit.  Strategic is always looking for passionate people to join their team.  As a result they offer competitive pay, flexible work schedules and an environment that allows you to take pride in work that is stimulating and important.
Looking for employment with Strategic Aviation?  Check out our job board at: https://www.aspirehiring.ca/current-job-listings/
Need assistance with your job search in the Okanagan? Contact us today to set up a consultation.  Speak with one of our experienced HR consultants and begin preparing for your new career today!