Staffing Solutions: Temp vs. Permanent Workers| Aspire Recruitment Solutions
For over five years now, Aspire Recruitment Solutions has been helping Okanagan businesses with human resources and staffing solutions.  What makes Aspire one of the top staffing companies in Kelowna and BC's Interior? Well for starters, we listen to our clients.  We seek to understand the HR and staffing need of our clients.  Whether you need temp workers or are hiring for a FTE, we have been very successful in matching candidates for temp positions or working with businesses to hire permanent placements.
Part of the reason for our success is that we understand the difference when hiring for temporary staff vs. full-time.  Here is a look at how we help place both temporary and permanent candidates.
Meeting the need for Temporary Staffing
While we are more than just a temp agency, we do have extensive experience in providing temp jobs in Kelowna and the Okanagan.
We understand the needs and requirements of employers looking for temporary staff whether it is for seasonal needs, special projects, temporary shortages or employee absence.
We understand by placing strong candidates, a temporary position can grow into full-time placement.
We have a diverse inventory of candidates that we work with.
We'll pre-screen applicants for you.
We continue to add to our database of qualified candidates on a regular basis.
We can help you with onboarding so that your temp staff can hit the ground running. The benefit to you is quicker turnaround and better efficiency.
We know the labour market in the Okanagan.
We have a high rate of successful placements unmatched by other temp agencies.
We know that over time, the role of temporary workers has broadened and become more diverse.  Today's temp workers can be highly skilled and flexible to accommodate your needs.
Learn more about our temporary staffing solutions.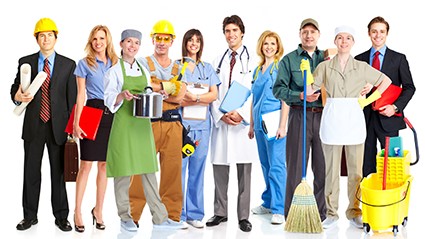 Permanent Placement: Finding the Right Match
So your business is growing and you need to hire and hire now?  When it comes to hiring for permanent positions, we have been very successful in matching job seekers with potential employers for the purposes of permanent full-time or part-time employment.  Here's how we'll help you find the right match:
We seek first to understand – that is we learn about your hiring needs and we look to match you with the right candidates.
We already have an inventory of vetted candidates so we reduce the risk when it comes to gauging the fit before hiring a candidate.
We can recruit, screen and recommend applicants quickly so that you can fill your position(s) sooner rather than later.
We'll help you find your next rock star so that you can groom them for success

.

We specialize in many industries from accounting and business to labour and construction.
We understand that it's not always about hiring the right skillset, it's also about fitting in with your corporate culture.
We can help with skills assessments

.

We can help you assess in-house talent of temp resources to determine the fit as a permanent hire.
We can customize our recruitment solutions from onboarding to employee management and provide you with a permanent hire that you are satisfied with.
Our recruitment services are designed to assist clients every step of the way thus ensuring hiring success. Our mandate is to match the right candidates with the right organizations.
So whether you have a temporary or permanent staffing need, we bring our recruitment expertise to you.  We aim to help you improve your hiring and recruiting practices, improve employee retention, and focus on productivity and efficiency.  We are looking to connect YOU with remarkable talent that allows you to build the team that you are seeking.
Need assistance with your staffing solutions in Kelowna and BC's Interior? Contact us today to set up a consultation.  Speak with one of our experienced HR consultants and let us help you find the next rock star for your organization.  Aspire Recruitment Solutions is the go to choice for Okanagan businesses when it comes to their staffing solutions. We help Okanagan job seekers and employers find each other.