7 Tips to Create a Strong Corporate Culture
Every company wants to be known as one of the top places to work or one of the top employers in <insert industry name here>.  Actually, very few organizations can truly boast that they are a top place to work.  One of the things that can set organization apart is corporate culture, however, corporate culture can mean different things to different organizations.
Corporate Culture Defined
So, what is corporate culture?  Corporate culture is really the belief and value system of a company that determines how their employees choose to interact internally and externally (with customers and clients).
Investopedia defined corporate culture as: "Corporate culture refers to the beliefs and behaviors that determine how a company's employees and management interact and handle outside business transactions."
Entrepreneur.com defines corporate culture as: "A blend of the values, beliefs, taboos, symbols, rituals and myths all companies develop over time."
Forbes says that corporate culture consists of "instinctive, repetitive habits and emotional responses."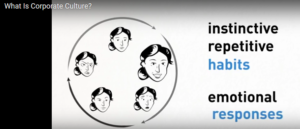 Image Source: https://www.forbes.com/sites/strategyand/2016/02/21/what-is-corporate-culture/#25e9acc82e46
A strong corporate culture is something that can set apart a good company from an average one.  Google, for example, is quite often listed as an organization with a strong corporate culture.  Here's a sample of things you didn't know about Google's culture.
Some companies such as Zappos actually conduct what is called a "cultural fit interview" which goes a long way in determining if a candidate is hired.
So how does an organization go about establishing a positive corporate culture?
7 Tips for Creating a Strong Corporate Culture
While we are going to list some simple tips here, you can research additional tips and examine examples from other companies to determine how to go about establishing your culture.  For now, here are seven quick tips to consider when developing your corporate culture.
Begin with a purpose – define the type of company that you truly want to be.
Define your Core Values – this should be defined by your entire organization. Hint: try to keep it simple.  Define a common set of values and standards that will measure how your company principles are being upheld.
Top-Down / Lead by Example – the CEO and management team need to reflect what the company's culture is. They need to live, breathe and exemplify your core values and beliefs.
Communicate – seek to hire individuals who exemplify your core values. As part of the onboarding process ensure that the core values and messaging around your culture is communicated clearly and consistently.  Develop a common language that can be understood by all. Communicate your values on a regular basis.
Create company evangelists – this can be one or many people. These are people who act as ambassadors for your brand.  Employees who live, eat and breathe your culture and can help communicate who you are as a company.
People First – integrity is a big thing when it comes to culture. Your core values should be communicated both internally and externally and your core values have to be truthful.  Do unto others as you hope others do unto you.
Live your core values – practice makes perfect. Developing a strong corporate culture means always adhering to your core values.  Strive to be a better you.
While a culture that works for one company might not work for another, you can learn a lot from companies who are doing it right.  Here is a look at ten companies that entrepreneur.com listed as having fantastic corporate cultures.  Establishing a strong corporate culture leads to happy employees, which ultimately leads to satisfied customers.  Take some time to revisit your core values and work on creating an environment that truly makes your organization one of the best places to work.
Need assistance with your HR or staffing needs in Kelowna or the Okanagan? Contact us today to set up a consultation.  Speak with one of our experienced HR consultants and let us help match you with strong candidates for your postings.