BC Employment Trends – Q4 2016
As we enter Q4 in 2016, the western world is focused on the US election as President Barack Obama's reign comes to an end and US voters will decide if it is Hillary Clinton or Donald Trump who will lead their country for the next four years (I bet many wish that Mr. Obama could run for a third term…).  You can expect whatever decision is made, that the United States is definitely lurking in uncharted territory on a number of key topics.  One of those topics is the jobs market.  The U.S. Labor Department's Bureau of Labor Statistics recently announced that jobs were up by 161,000 in October as wages were also growing.  Barack Obama's government has made some nice strides when it comes to job creation in the US.
Let's see how this compares to our neck of the word here in Western Canada specifically in British Columbia.  According to data from the Labour Force Survey shared by Work BC:
In October 2016, there were +14,900 jobs created in BC

+ 8,800 full time positions
+6,200 part time positions

Total employment opportunities increased by 0.6% over the previous month
Full time positions increased by 0.5%
Part time positions increased by 1.2%
The unemployment rate in BC increased from 5.7% in September to 6.2% in October
The unemployment rate in the Okanagan is 6.9% for October 2016, while the unemployment rate in Kelowna was actually a little higher at 8% in October 2016.
Based on data from the Labor Market Information from workbc.ca, in October 2016, the total population (15+) for Thompson-Okanagan region was 437,900 with total employment equalling 253,200.  Top industries in the region include: construction, forestry/logging, health care and social assistance and accommodation and food services.
In general workers have good reason to be optimistic as several industries are expected to offer strong job opportunities in the next few years.  A number of these opportunities will be in:
traditional industries such as natural resources (which are expected to grow through innovation)
green technology
digital
service industries including health care, high-tech and retail sales
life sciences
Over the next decade nearly 69% of jobs in the Okanagan will come from the need to replace a retiring workforce.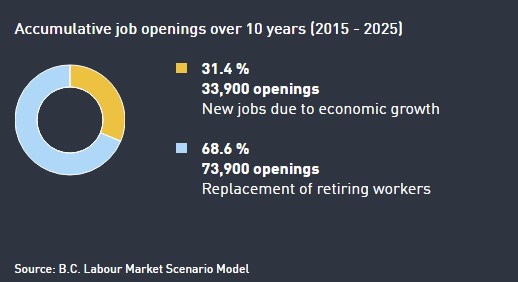 Image Source: https://www.workbc.ca/Labour-Market-Information/Regional-Profiles/7
Overall, within British Columbia, the following industries are seeing the greatest growth in 2016:
Manufacturing + 5,900 jobs
Wholesale and Retail Trade + 5,700 jobs
Health Care and Social Assistance + 5,300 jobs
Transportation and Warehousing + 2,700 jobs
Heading into Q4 most BC Employment trends are heading in the right direction.  It will be interesting to see if the results of the US election have an immediate impact on Canada's economy and if there will be an impact on Canada's job market.
Keep checking out the Aspire Recruitment Solutions blog for additional BC Employment Trends
Are you an HR Manager who needs some HR consulting or recruiting assistance? Contact Aspire Recruitment Solutions at 778-484-0161.
Aspire Recruitment Solutions is the leading human resource solution and employment agency provider to clients in Kelowna, Vernon, Kamloops, Northern BC and Alberta. We connect great employers with the best candidates every day.