Why You Need to Build an Agile Workplace
The workforce world is currently undergoing a metamorphosis. Technology and the changing needs of employees are affecting how employers approach building a solid and productive workforce. In order to build a highly productive team, today's employers must be flexible and understand that having an agile team is the future.  Your organization must be nimble and must be flexible enough to attract top talent and non-traditional workers.
What is a Non-Traditional Worker?
A non-traditional worker is a contractor, freelancer or remote worker that you have access to.  They may or may not be physically in your office or part of your internal team.  Yet they have the skillset to efficiently work on projects as required.  Studies show that 85% of employers agree that having an agile workforce is a must in order to remain competitive and successful in the future.
Major corporations and smaller companies have been already been doing this for quite some time and are having great results in doing so.  Other organizations are sure to follow as non-traditional workers already make up 30% of the workforce.  According to Randstad.ca, IT and engineering jobs are leading the way when it comes to non-traditional work.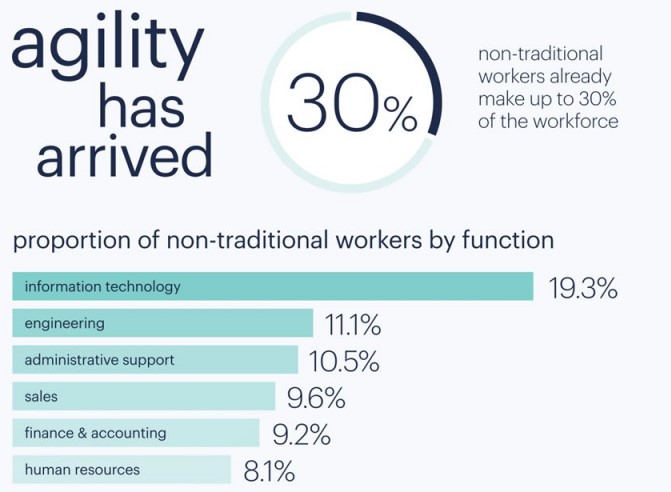 In one of our post's from earlier this year is that the number one workforce trend for 2017 is the increase use of a blended (or non-traditional) workforce.  That is a working environment that consists of both full-time, part-time and freelance or contractor staff.  Look for this to increase further.  It's not a matter of why but a matter of when your organization needs to become more agile in the composition of your workforce.
So why is building an agile workforce so important?
Well it's not so you, as an employer, can save from paying benefits to your staff, there are a number of reasons as to why you should be looking at freelance or non-traditional workers.  Really it begins with the type of skills/knowledge that an agile worker can bring to your team.
Freelance or contractors often have flexibility with time and work schedules
Agile resources tens to have on-demand availability and are quick to adapt to the task or project at hand.
Agile workers tend to have up-to-date skills and knowledge
As an employer your recruiting efforts may be limited by your location, project timelines or other factors.  Having an inventory of go-to resources can help you combat some of the recruiting woes that you face.  Building an agile workforce becomes important as it allows you to:
Staff for peaks and valleys in your business
Reduce costs by having remote workers
Prepare for resource shortages
Bring in required skillsets more quickly
Be competitive in your space/industry
Today's workers, especially millennials, are rethinking their approach to employment, which is changing the way that you will need to fill your staffing needs.  Workforce agility represents a change in staffing models that feature non-traditional workers that range from blue collar workers, to highly skilled professionals in the IT, engineering, accounting, and HR fields.  Flexibility, agility, these are all terms that you as an employer need to grasp and understand as you plan your staffing needs moving forward.
Why do you need to build an agile workplace?  That's simple, it's the way of the future and the practice in the present.
Need some recruiting or HR support? Contact Aspire Recruitment Solutions at 778-484-0161.
Aspire Recruitment Solutions is the leading human resource solution and employment agency provider to clients in Kelowna, Vernon, Kamloops, Northern BC and Alberta. We connect great employers with the best candidates every day.