The Kelowna Job Market in 2015 and Beyond
Stats on the Kelowna / Okanagan Job Market
At Aspire Recruitment Solutions, we pride ourselves in understanding the dynamic of the local job market in Kelowna, the Okanagan and beyond.  We know that the Okanagan Valley is truly one of the most desirable places to live, work and play in British Columbia. Kelowna is a highly desirable community not only to visit but to live and to relocate to.  People love visiting the Okanagan as we can see by looking at the airport traffic experienced over the past decade.  In fact, 2014 saw a record number of travellers come through Kelowna International Airport (YLW).  While the top three months for visitor traffic tend to be March, July and December, there has been an increase in traffic to Kelowna throughout all months of the year.
Source: Kelowna.ca
So is it just people visiting the Okanagan or are people relocating to Kelowna and area?  Well a study from earlier this year suggests that Kelowna has been ranked as the fast-growing city in all of B.C.  In fact, Kelowna's population growth is at 1.8 per cent; which ranks it the fifth fastest-growing metropolitan area in the country behind Calgary, Edmonton, Saskatoon and Regina.
With an emerging technology sector the Okanagan offers unequalled landscapes, an outstanding climate, and access to and connectivity with Canada job seekers are coming to enjoy the beautiful environment of the Okanagan Valley.
 So what does that mean for Kelowna employers?
What this means is that employers in the Okanagan have the luxury of luring candidates and potential employees to Kelowna and surrounding areas by selling the great climate and dynamic environment of the city.  Kelowna and the Okanagan as a whole, has become a prime destination for residential and small business relocations due to the exceptionally moderate climate, strong transportation, trained labour force and availability of diverse recreational opportunities.  According to 2011 Census data the Central Okanagan had a population of roughly 180,000 people, which has seen an even further increase in recent years.
Recent data from the Okanagan Valley Economic Development Society, states that the major economic sectors in the Okanagan are in agriculture/viticulture, tourism, retail trade, manufacturing, forestry and construction. Kelowna has also seen emerging industries prosper including film, aviation, health care and technology.  According to the information from the 2015 Okanagan Valley Economic Development Society – Okanagan Valley Economic Profile, there are some interesting findings when it comes to the job market in Kelowna and the Okanagan:
The Okanagan is more likely to have a larger proportion of skilled trades and apprentices in its working population relative to the rest of British Columbia.
Technology is one of the most rapidly emerging economic sectors in the Okanagan Valley. The Okanagan has attracted a large body of skilled persons who have elected to relocate to the area for lifestyle and health reasons.
Strong retail trade is a significant component of tourism and a major generator of employment.
Occupations that are expected to have above-average opportunities for job seekers in the near future, due to a combination of above-average job openings and above-average growth include:

Manufacturing managers
Information systems analysts and consultants
Industrial electricians
Forestry professionals
Software engineers
Managers in Health Care
Administrative Clerks

Improved transportation links to the Lower Mainland, rest of Canada and several international destinations all add to Kelowna and the Okanagan's appeal as a place to locate secondary and tertiary manufacturing.
Participation in the Labour Force by Okanagan Valley residents is around 3.5% lower than the average participation rate for British Columbia.
The median age is nearly 4 years above the British Columbia median, and an increasing proportion of residents are seniors (65+)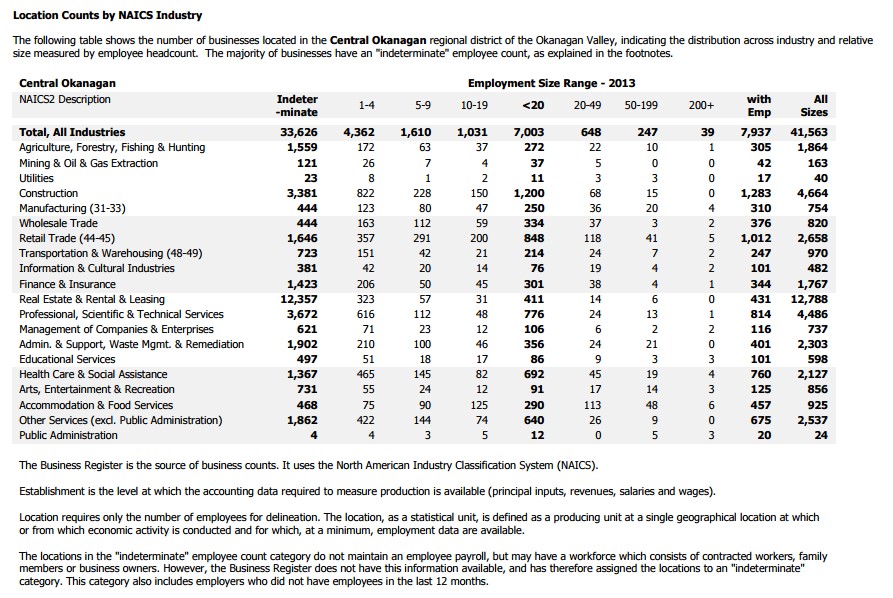 Source: OVEDS © 2015 Okanagan Valley Economic Development Society – Okanagan Valley Economic Profile
As a job seeker or employer in Kelowna and the Okanagan, the future looks bright.  For employers there is a greater talent pool to choose from than ever before.  However with today's technology, competition for talent is becoming more spirited which may make talent acquisition more difficult in the future.  Having a solid recruiting plan is a great place to start.  Understanding the current job market in Kelowna and the Okanagan is useful as it provides greater insight into the resources that may be available to your organization within your industry.
For more additional statistics on Kelowna and the Okanagan check out: Stats Canada: Census Data for Kelowna.
Are you a business in Kelowna or the Okanagan looking for some help with your recruiting efforts?   Contact us today for assistance with your human resourcing needs!
Aspire Recruitment Solutions provides HR Consulting solutions to small, medium and large sized businesses in Kelowna, the Okanagan and beyond.