Why Using Social Media for Recruiting is Important
Did you know that Canada is the most plugged in nation in the World?  Yup it is true, more Canadians are connected to the Internet per capita than any other country in the World.  Of course Canadians use the Internet for more than just checking hockey scores or looking for vacation deals.  Canadians are a very social group and like many use social media on a regular basis.  According to data from canadiansinternet.com in 2015, Canadians were heavy users of social media:
LinkedIn and Instagram usage is increasing while
Facebook and Twitter usage is starting to level out
59% of survey respondents use Facebook
68% of college graduates prefer Facebook
75% of those earning $80K-$100K use Facebook.
25% of those surveyed use Twitter
31% of those earning $80K or over use Twitter
30% of respondents use LinkedIn
39% of British Columbians use LinkedIn.

Source: Canadiansinternet.com
So we can see that Canadians, like most, continue to use social media to gather and find information.  In Canada Facebook is still the most popular social network in terms of usage.  So how does this tie into recruiting you may be asking?
Social media has always been a useful tool in terms of recruiting.  Whether you are a professional recruiter finding talent for 20 positions for a large organization or an HR manager looking to compile a shortlist, social media has become an important if not critical recruiting tool.  For employers there are two main ways to use social media in recruiting efforts:
Use social media to communicate job postings – One of the best ways to use social media in recruiting is to post jobs to LinkedIn, Facebook and Twitter. This is a free way to get your latest job openings out to a large audience in a big way without the risk. Of course if you are looking for a specific skillset you may not want to open it up to the masses so you may be a little more selective in the social networks and job boards that you post your open positions to.
Candidate Search / Screening – you can use social media to actually search for potential candidates. This is what LinkedIn is geared towards.  Many people on LinkedIn will actually feature their resume or CV on their profile page.   With some smart searching, it can be easy for employers to screen potential candidates who may have not even applied for your position.  A second use, and probably the more historical use of social media for recruiting that you are familiar with is in terms of "screening" applicants.  As part of the recruiting process, employers can do a quick search and have a peek at the social activity of a potential candidate.  Are they the professional type that you are searching for?  Are they more extroverted and outgoing, which is what you may be in search for?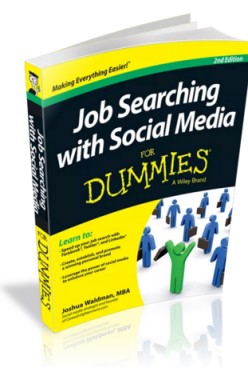 The fact is millions of job seekers are using social media and using it regularly.  In addition, with the increased use of mobile, job seekers are using social media apps to access information.  When was the last time that you were on your phone and went to Facebook.com as opposed to opening up the Facebook app?  If you are going to go fishing for talent, you need to go where the fish are. Even Facebook, the world's leading social network use their very own social network as part of their recruiting efforts.  People are social by nature and job seekers are using social too.  Companies have been using social media for years to find and acquire talent.  In fact in 2010, 65% of companies successfully hired talent via social media (Source:  CareerEnglightenment.com).  There are a ton of resources on how to use Facebook for recruiting or on other ways on leveraging social media for talent acquisition.  There have even been books about using social media in the job search, so the need to use social media for recruiting is clear.
Think about what social media is.  It is about communication.  Historically job seekers had but one tool to use in their job search, their resume.  A resume is really a one-way form of communication.  You attempt to sell yourself via two pages (or less) and you have no idea how the person reading it will interpret the items you have included.  Not to mention it can be difficult to differentiate yourself via a resume.  Social media is more about connecting.  It is more of a two-way form of communication.  You can send me a LinkedIn or Facebook message, you can retweet my comment or my blog or my information.  Social media can allow for comments to be shared or chats to occur often in real-time.  As an employer you can leverage social media to arrange an interview quicker, you can screen candidates quicker and you can build your candidate pool quicker.  Fact:  More than 94% of recruiters use LinkedIn.  Fact:  50% of hiring managers can determine whether a particular candidate's personality is a good fit for their team just by looking at their social media presence.
If that's not good enough for you to remap your social media recruiting strategy, then just note this: According to a 2014 survey conducted by Jobvite, 33% of recruiters spend no money on social media recruiting and another 41 percent spend anywhere from a dollar to $1,000.  Social media recruiting can be inexpensive and can provide a quick return.
In today's digital, fast paced age everything and everyone is plugged in.  Your recruitment efforts need to be plugged in as well.
For more information on recruiting strategies and using social media as part of your recruiting efforts, contact us today to set up a consultation.  Set up an appointment to speak with one of our experienced HR consultants and begin preparing your recruiting strategy today!