How to Get Employees to Champion your Brand
How many times have you heard an organization's management team say "our employees are our greatest asset", or "our team is our competitive advantage"?  Quite often this is not just cliché, but an endorsement for the existing talent at a given organization. No matter the size of your business, you truly are only as good as your product and service offering but without a dedicated and passionate team, your business is sure to suffer… or at least not meet its fullest potential.
So when it comes to recruiting practices why not leverage one of your greatest assets, your people?  Even in the Digital Age, your people can be the greatest ambassadors for your brand.  Especially from a social perspective, the fact is your employees are your brand ambassadors.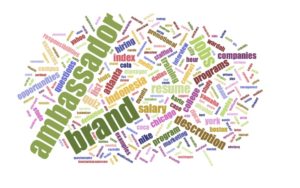 Leverage your existing talent to acquire more talent
Whether you like it or not employees are going to share their experiences about working for your company.  Treat them well and they will have nothing but good things to say, treat them poorly and they may not have a lot of great things to say about your company and your brand.  It simply makes good business sense to use your employees as brand advocates.  So then, just how can you get employees to champion your brand?
Have a consistent brand story – in a recent years a lot of companies will leverage their marketing departments to come up with an actual brand story. The brand story needs to be consistent and be communicated to your employees so that they can share a consistent message.  Potential candidates will trust what employees say about your brand, so having a clear and consistent brand message can go a long way in making your employees become positive brand ambassadors for your business.  Educate your team on your brand story.
Encourage dialogue with your employees – whether it's through surveys or through weekly meetings, listen to your employees and ask for their thoughts on the company, their jobs and what they feel gives them the most satisfaction of their role. Identify potential issues and work to solve those issues.  Let your employees know that you hear what they are saying and will make the necessary changes or updates requires if it is in the best interests of the company and the team as a whole.
Earn respect, give respect – earn the trust of your employees and they will trust you and will help represent the company in a manner that will build trust not only with your customers but with potential candidates.
Empower your employees to connect – whether through social media or other channels, guide and teach your employees how to connect with people both inside and outside of your organization. Along with a clear and consistent brand story, empowering your employees to share their positive experiences at your organization can build trust with job candidates. Connecting also means making your employees brand champions on social media.
Start a referral program – while this is a bit of an "old school tactic", there is still value in starting a referral program where employees can benefit from referring potential candidates to hiring managers or leaders who are looking to fill specific positions within the organization. Trust is a big one here, and there is still something to be said for "word-of-mouth" advertising whether you are promoting a product or promoting a brand.
Build a strong employee culture – the best way to promote (and protect) your brand is to build a strong employee culture. This goes without saying but companies with strong core values that employee people with the same core values tend to be the companies that have strong employee cultures.
Did you know that employees are a more trusted source that management or C-Suite Execs?  Working with employees to become brand ambassadors for your organization is not only good for PR, but good for recruiting.  Deploying a positive environment and strong culture goes a look way in developing brand champions for your organization.
Looking for your next brand champion? Need assistance with your recruiting or staffing efforts? Contact us today to set up a consultation.  Speak with one of our experienced HR consultants and begin preparing for your 2018 recruiting and HR needs today!