Five Things Job Seekers Care About in their Job Search
The Job Seeker Revolution
The times they are a changin' are they not?  While you may still be seeing record number of applicants for posted positions, you may have noticed that the quality of those applicants has improved in the past few years.  The Digital Age has allowed people to become more educated more quickly.  This has had a direct impact on the Millennial job seeker.  With Millennials there is less brand loyalty and less company loyalty these days.  According to data from CareerBuilder, one in five employees plan to change jobs in 2016, with the already saturated job market out there, the number of job seekers out there is approaching record highs in certain areas.  With that comes a savvier job seeker.  A job seeker that is not afraid to change careers, let alone a specific job or role.
So as an employer looking to acquire or retain talent, what does this mean for you?  At a high level, it means that you should be listening to your teams.  You should have a strong understanding of what makes them happy and what is important to them.  Not only is this important for your current staff but for potential new candidates that you may be seeking.  As an employer you know how costly high turnover rates can be.  The ability to retain your talent is as much of a concern as your ability to acquire talent.  In 2016, what does it take to retain and acquire top talent?
Five Things that Job Seekers Care about in their Job Search in 2016
So is money and compensation at the top of our list?  Well it is still an important factor but you may be surprised that it is not the most critical factor that job seekers are looking for in their job and career search activity.
Job Stability – Millennials aside, most people do not like change. A recent survey from careerbuilder.com states that 65% of workers ranked "job stability" as the most important factor when choosing a new job.  People want to be a part of an organization that they know will be around where they can grow and prosper with.  If you want to attract these types of job seekers you have to communicate why your organization is such a great place to work at.  You need to appreciate your current workforce.  Job stability is something that we all want, but very few organizations can deliver on.
Flexible Working Conditions – technology has made it easy for us to become virtual employees. Traditional companies are still slow to adopt this, but having the ability to work from home or to have flexible hours can actually make your team more, and not less, efficient! For some employees the ability to have flex time allows parents with children to reduce the amount of external childcare required.  This is something that is greatly appreciated by job seekers who are parents.  Another benefit of flexible work conditions is that you can reduce burnout and create brand evangelists for your company.
Compensation – today's job seekers still expect to be paid well for their efforts. Media is rampant with stories of just how outrageous some CEO salaries are, but with stories of CEO's paying their entire staff $70,000/yr some job seekers are becoming better educated on their worth and value to a company.  They expect to be paid accordingly and more often they will find employment elsewhere that will meet their compensation needs.  Now of course this is not the case in all industries, but it is happening more and more.  People should be paid what they are worth.  People expect to be paid what they feel they are worth.
Trust and Transparency – job seekers today are looking to be a part of an organization that they feel can be a contributing part of. That is they have a say in where the company is going or about certain policy or procedures.  Transparency also communicates expectations in a clear way and this clarity provides the ability for these job seekers to better understand expectations, goals, and targets and gain a better understanding of the big picture.
Non-Traditional Benefits – today's job seekers are looking to be part of companies that offer some out of the box benefits. This might be providing nutritious snacks and drinks in the company's kitchen or cafeteria.  It may be subsidizing a gym or health club membership.  It may be an onsite daycare.  Or it may be providing an education/training allowance.  Job seekers are looking for solid companies that provide more than just traditional health-care benefits.
So do job seekers expect more?  In some cases yes, but in a number of ways they are looking for something different, something atypical as to what you see in most organizations.  Of course size of the company may restrict what they can offer, but in order to attract and retain staff, they need to understand some of the items that will satisfy their career and job requirement needs.
Job Candidates are More Savvy:  They Expect More
We have shared this data before, knowing that the outlook for the Thompson-Okanagan area of the province looks poised for some growth over the next ten years based on data from Work BC there will be an increased demand for quality workers.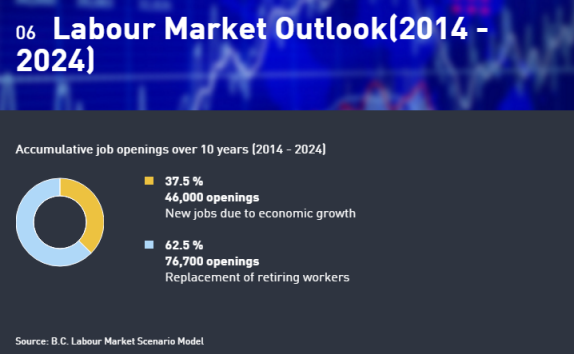 With amount of layoffs that have been happening, we are seeing trends of highly qualified people apply for positions that they may not have applied for in the past.  With more savvy and experienced job candidates and more jobs on the horizon, it will become more competitive for employers to attract talent.  Many of these highly qualified candidates have higher expectations not just in compensation but in the areas mentioned above.  Is your organization prepared to offer things like flex time or the ability to work from home?  Your decision to offer these types of benefits may well determine the level of candidate that you meet with and be able to hire.
Thinking of updating your hiring and recruiting strategy? Set up an appointment to speak with one of our experienced HR consultants and begin preparing for the new wave of recruitment today!