8 of the Fastest Growing Temp Jobs in 2018
Quite often when a company needs additional resourcing they will look at filling their staffing needs with temp workers.  Temporary work can last from a day to several months.  For employers, temporary staffing is a great way to fill a short term need.  However, did you know that over 40% of these employers plan to transition some temporary workers into full-time employees?
Temp job – employment with a set duration depending on the needs of the employer.  Temporary positions may be used for maternity leave, seasonal peaks or other instances where resourcing needs are required.
As a job seeker, there are many benefits to taking a temp job.  To gain experience, to network, to acquire new skills, to earn some extra income or to diversify a skillset are just a few benefits of taking on some temporary work.
In the Okanagan, with the high number of jobs in the hospitality field, there are a number of employers looking to hire temp staffers.  Here is a look at eight of the fastest growing temp jobs expected in 2018.
8 of the Fastest Growing Temp Jobs in 2018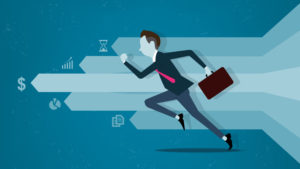 Customer Service Reps – resources required to assist in handling customer issues from simply providing additional information to handling customer complaints.
Sales Representatives (Service-side) – people with sales experience to help sell services at either a consumer or business level. Especially early on in the calendar year as companies look to boost sales to meet quotas.
Operations Specialists – many businesses require assistance with their business operations. This could include requiring a resource to review or finalize business processes, map out resourcing needs, or develop product or service enhancements.
Computer Programmers – coders are always in demand. Sometimes a company need some additional help in writing code or developing tools, apps or a software program.  Temp programmers continue to be in demand.
Registered Nurses – always seems to be a shortage in this area doesn't it? There are a number of health facilities that seek additional support in terms of providing patient care and support.  Registered nurses and nursing aides are in demand more than ever with an aging population in Canada.  Temporary employment in this field often leads to permanent placement.
Human Resources Support – while a staffing agency can assist with various HR needs, many companies seek in-house support when it comes to various HR activities such as HR training, benefits, performance management and other tasks.
Office Support/Office Clerks – one of the most recognized temporary position is in the form of Office support. A number of organizations seek temporary assistance with admin tasks such as data entry, answering phones, customer service and other related office administration tasks.
Content/Copywriters – in the Digital Age, continuing to develop content for online Web properties is a must. While many organizations have their own copywriters and content teams, smaller business often look at leveraging a temporary resource to assist with their content needs.
These are just a sample of some of the types of fastest-growing temp jobs being discussed for 2018.  As an employer you may be finding that some of the above represent areas where you may be considering a temporary resource.  As a job seeker, these are exciting times as there is an increase in the demand for temporary workers.  If you are looking for a short term employment engagement and have a desired skillset pertaining to any of the eight jobs mentioned above, 2018 could be a great year for you!
Need assistance with your recruiting or staffing efforts in the Okanagan? Contact us today to set up a consultation.  Speak with one of our experienced HR consultants and begin preparing for your 2018 staffing needs today!