Mid-Year 2016 Job Market Trends in British Columbia and Across Canada
Stats Canada has released their updated unemployment stats for the country for July 2016.  New Brunswick, Prince Edward Island and British Columbia were the only provinces that saw declines in the unemployment rate in July.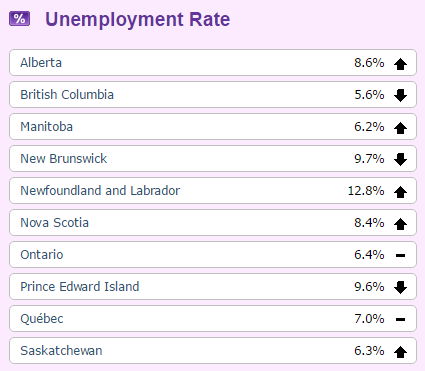 The job market in British Columbia appears to be holding steady based on Year-Over-Year (YOY) data. While the population of the province increased by 1.4%, the unemployment rate went from 6.0% last July to 5.6% in July of 2016.  There was an increase of about 2.2% in full-time jobs in BC in July 2016 when compared to July 2015 and an increase of 9.2% in part time jobs.
There are about 2.535 million British Columbians in the Labour Force in BC with about 2.392 million jobs available.  According to data from Stats Canada, employment in BC increased slightly in July. There were 12,100 additional people employed in the province compared to a month earlier, representing an employment jump of 0.5%. This month-over-month increase is entirely due to a gain in part-time employment (+33,900) with loses in full-time work (-21,800) only partially offsetting part-time gains.
At 9.8%, the unemployment rate for BC youth aged 15 to 24 continues to hover around two times the overall unemployment rate, but is moderately lower than last year (-1.4 percentage points). The change is largely due to a decrease in the unemployment rate for young women—from 9.5% to 7.3% on the year.
According to the Royal Bank of Canada's latest forecast, GDP growth in the province will be 3.0% in 2016, before easing to 2.3% in 2017.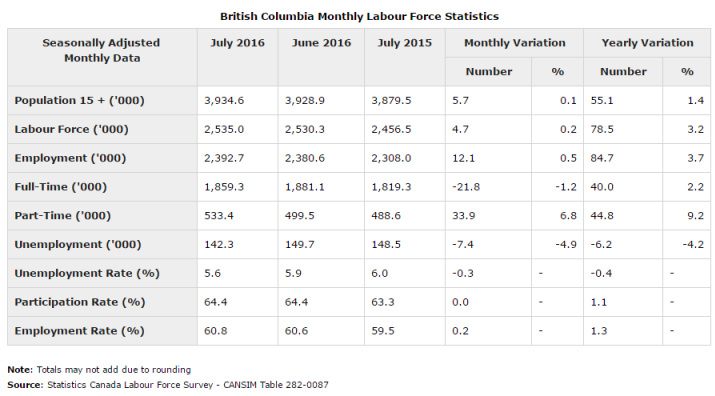 Source:  Government of Canada
Employment in BC's services-producing sector was up 59,300 (+3.2%) from the same period one year earlier. The largest yearly employment gains occurred in professional, scientific and technical services (+16,700). Health care and social assistance showed strong employment gains on the month (+9,900).
The top five industries that experienced the most growth in BC over the past year are:
Agriculture +13.6%
Finance, Insurance, Real Estate and Leasing + 9.9%
Business, Building and other Support Services +9.5%
Public Administration +9.4%
Forestry, Fishing, Mining, Quarrying, Oil and Gas +9.1%
Southern urban centers continue to be the main drivers of provincial employment growth in July. At 5.9%, the Lower Mainland's year-over-year employment growth rate was by far BC's highest.  The Thompson – Okanagan area of the province saw the unemployment rate go from 4.6% in July of 2015 to 6.9% in July of 2016 an increase of 2.3% (the second largest increase in the province).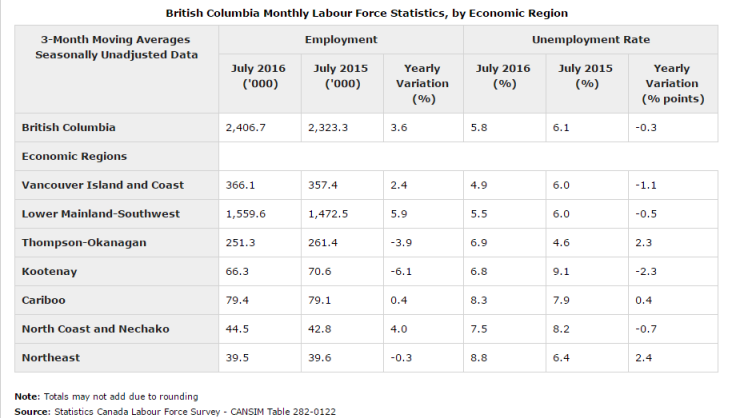 The good news is that there are still employers looking to fill positions across a wide variety of industries.  If you are looking for employment in the Okanagan region contact us.  We can assist you in revamping your resume with our resume writing services. Or perhaps as an employer or HR Manager, you need assistance with your recruiting efforts or need help developing an HR Strategy?  Contact Aspire Recruitment Solutions at 778-484-0161. Aspire Recruitment Solutions is the leading human resource solution and employment agency provider to clients in Kelowna, Vernon, Kamloops, Northern BC and Alberta. We connect great employers with the best candidates every day.