Attracting Millennials in the Workplace
Who Are Millennials?
Millennials are defined as the generation born in the early 1980's and over the next 20 years after.  Quite often the age demographics of millennials are defined as those people born between 1982 and 2004.  Pew Research defines Millennials as those who are between the ages of 18 to 34 in 2015.
Synonyms for Millennials…
Millennials are also known as Generation Y.
Echo Boomers – the children of Boomers, the largest generation since their parents.
Digital Natives – They are the first generation who don't know life without the internet and personal tech devices.
There have been many negative generalizations that are frequently applied to the millennial generation, like "entitled" or "lazy."   The interesting thing about Millennials is that according to Pew Research, Millennials have become the largest living generation in North America. They already have surpassed Generation X to make up the largest share of the U.S. workforce.
Millennials in the Workplace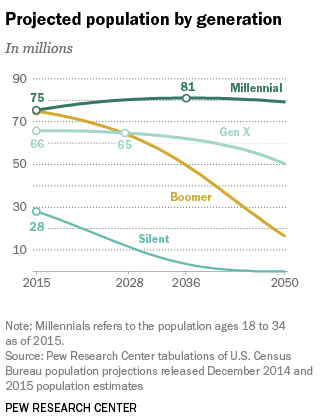 Knowing that this generation makes up the largest share of the U.S. workforce with a similar trend in Canada, what motivates Millennials in the workplace?  How can employers attract workers from this generation?  Here is a look at five things that are important to Millennials when it comes to careers and jobs.  Not included in this list but of great importance to Millennials is pay and compensation.  Millennials like other generations expect to be paid what they feel they are worth.  To retain top talent you have to pay for top talent.  In addition to compensation here are some other motivating factors for Millennials.
Flexibility – in where and when they work. A number of Millennials prefer to work from home and work after a typical day is done.  They are motivated by flexibility in their work conditions which many say improve their happiness and their productivity.
Big on Work Culture – Millennials appreciate a positive work environment. Maybe that is why you'll find a foosball table or PlayStation in your office.  Millennials are happy in a comfortable work environment that is less corporate and more "fun".  Millennials are looking at organizations that offer additional incentives and perks with the job.
Out of the Box Benefits / Room to Grow – Millennials seek unconventional benefits to keep them motivated, loyal and productive. Studies had communicated that 70% of Millennials expect to move up to a managerial position within five years.  They want regular feedback on their performance and they will put the effort in to "move up".  In addition, Millennials are big on non-typical benefits as contributions to a gym membership, flex days, and other non-traditional benefits.
Clear Expectations around Breaks – this may seem like something trivial but studies have shown that Millennials often feel guilty about taking regular breaks and as a result do not take them. However, 62% of Millennials say that having regular break time will help increase their productivity.
Relationships are Important – Millennials are a very social generation. They are looking for trust in their leadership team and they are looking to have a strong relationship/correspondence with their direct manager or leader.  They associate strong leadership with a solid culture.  Being recognized for their work and being appreciated increases their loyalty and further motivates them.
Millennials are in fact different.  These Digital Natives have the skill sets required to be highly successful in a technology-driven world.  They are more about the experience, freedom and flexibility.  Millennials are more self-aware, they are driven as much by the why as they are by the what.  They want to make an impact.  They are career driven but they are also entrepreneurial minded.  Attracting Millennials in your workplace means understanding what motivates them and what will keep them happy.
If you have questions about recruiting or staffing or if you need assistance with your HR Strategy contact us at 778-484-0161.  Aspire Recruitment Solutions is the leading human resource solution and employment agency provider to clients in Kelowna, Vernon, Kamloops, Northern BC and Alberta. We connect great employers with the best candidates every day.